Eric Schmidt, L.Ac. – Clinical Director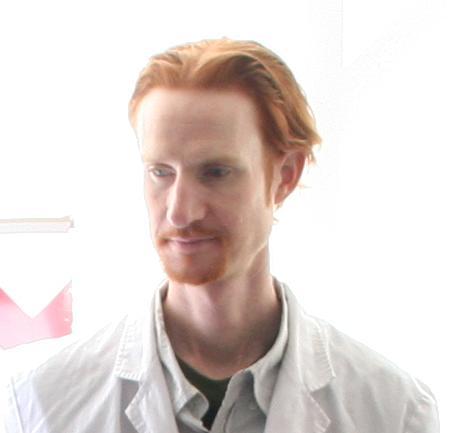 Eric Schmidt, L.Ac, Dipl. O.M. is the owner and founder Meridian Health Clinic. He is an accomplished acupuncturist and herbalist, currently living in Santa Monica. He graduated from Acupuncture and Integrative Medicine College in Berkeley with high honors in 2007.  Eric practices in a traditional Chinese style incorporating Acupuncture, 5 Element principles, Chinese Herbal Medicine, Tui Na massage, Dietary and Lifestyle counseling to treat a wide variety of health conditions.  His acupuncture style incorporates techniques from Master Tung Acupuncture and anatomy-based Trigger Point Therapy. He has completed advanced study programs in both China and Japan.
Professional Certifications include:
Bachelors Degree in Systems Engineering, University of Virginia (BS)
Masters Degree in Acupuncture and Oriental Medicine, AIMC (MS)
California Acupuncture Board Certification (L.Ac.)
National Acupuncture Board Certification (Dipl. O.M.)
Teaching Positions:
---
Shiatsu Massage School of California – Santa Monica, CA. 9/2010 – Present
Since 1982, the Shiatsu Massage School of California (SMSC) has been an internationally-recognized leader in massage therapy education. Providing the essentials of healing bodywork within a safe and nurturing environment, SMSC offers a progressive, dynamic curriculum including diploma programs, courses, workshops and classes.
International Experience:
---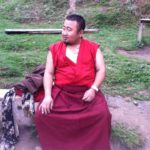 Benchen Monastery Free Clinic – Kathmandu, Nepal. 11/2016
In November 2016, Eric returned to the mountains of Nepal to volunteer in Kathmandu for 3 weeks and see old friends.  During his stay at the Benchen Monastery Acupuncture Clinic, Eric treated upwards of 20 patients a day at a busy medical setting.  Nepal will always be one of Eric's favorite places to visit and volunteer and he plans on returning there for many years to come.
http://www.benchen.org/en/free-clinic
Mae Tao Clinic – Mae Sot, Thailand. 12/2013 – 1/2014
At a busy clinic in Western Thailand, Eric helped manage the multilingual Acupuncture Department at the Mae Tao Clinic. The Mae Tao Clinic (MTC) is a health service provider and training center, established to provide quality health care among displaced Burmese and ethnic people along the Thai-Burma border. Because of the location, medics at the clinic exchange conversation using Thai, Burmese, English and other ethnic languages. In the acupuncture department at Mae Tao has a full-time 8 person staff, seeing 30–50 patients per day.  Common patient conditions seen include high blood pressure, diabetes, post-stroke paralysis, orthopedic imbalances, arthritis and gynecology issues. In addition to performing acupuncture Eric taught scheduled classes to the clinic staff on various topics including acupuncture and TCM theory.  Pictures can be found on our Volunteering Abroad page.
http://maetaoclinic.org
Benchen Monastery Free Clinic – Kathmandu, Nepal. 10/2011-12/2011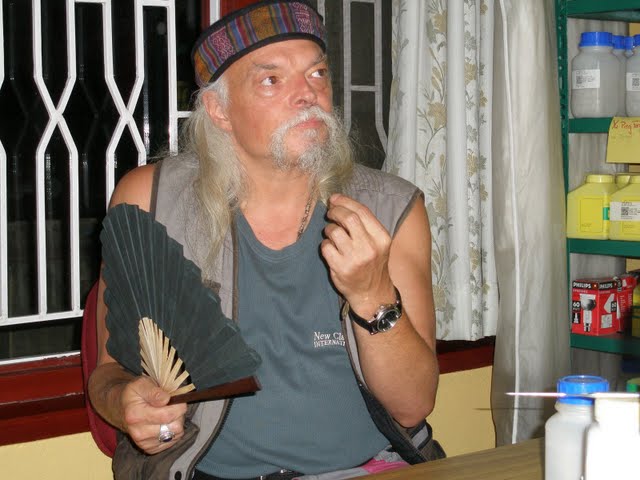 In the mountains of Nepal, Eric managed the Benchen Monastery Acupuncture Clinic for 2 months, seeing about 20 patients a day as the only Acupuncturist present for most of the duration. During this time, trainings in energetic acupuncture were given by Master Matthias, a German Acupuncturist with a high degree of expertise in acupuncture and herbal medicine. Master Matthias is an amazing practitioner and a great inspiration for the way in which acupuncture can be practiced, using ancient techniques to have amazing results in the present day.
http://www.benchen.org/en/free-clinic
Barefoot Acupuncturists – Mumbai, India. 7/2009 – 8/2009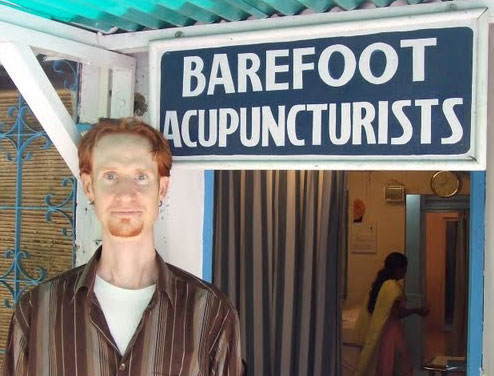 During the rainy Monsoon season in Mumbai, Eric managed the Barefoot Acupuncturists Clinic as the head acupuncturist. This busy clinic treated over 20 patients a day serving a poor area in central Mumbai (Bombay). Common patient conditions included diabetes, post-stroke paralysis, orthopedic imbalances, arthritis and gynecology issues. In addition to acupuncture Eric taught scheduled classes to the clinic staff on various topics including acupuncture, qi gong and TCM theory.
http://www.barefootacupuncturists.com
Yunnan Provincial Hospital of Traditional Chinese Medicine – Kunming, Yunnan, China. 3/2009 – 6/2009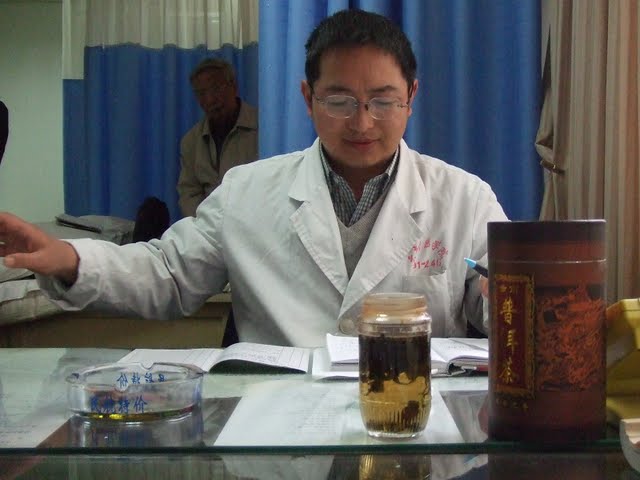 In South China, the Chinese Herbal center of the world, Eric studied modern clinical Chinese Medicine techniques (Herbs and Acupuncture) at an intensive "Clinical Practicum". This study was done in Kunming, China at one of the most famous traditional Chinese Medicine Hospitals in China, employing a university staff of 1225 faculty members and a huge patient load. This experience provided an in-depth study of modern TCM practice in China. The Herbology in China is truly amazing and very inspiring. Eric studied in the following herbal departments: Dermatology, Nephrology, Cardiac/Lung, Gynecology, General Medicine, and Oncology.
http://www.yehs.org/kunminghospital.htm
More Details:
>> Eric Schmidt, LAc – Full Resume