Pain Relief with Acupuncture in Santa Monica
Acupuncture relieves joint pain and other painful conditions rapidly and effectively.  We know that the application of acupuncture has the ability to effect the transmission of nerve impulses, to stimulate the release of endorphins (the body's natural pain relievers), increasing seratonin, and effecting levels of acetylcholine and catecholamine levels (additional neurotransmitters that influence pain response).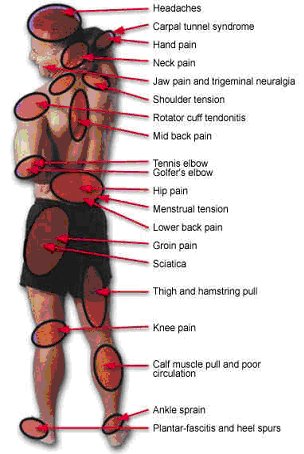 In addition, acupuncture's effectiveness is not only limited to alleviating pain.  The real value in this traditional method is that deeper healing is promoted at the same time that inflammation and pain is being reduced.  Part of this effect comes from acupuncture's ability to promote better blood flow to specific areas of the body (depending on the treatment given).  In addition, a acupuncture treatment may address a host of additional health issues the patient is concerned with, these conditions may or may not be the cause of the pain. Other effects of Chinese acupuncture and herbal treatment include:
To improve mood and regulate the emotions in response to pain
To increase the overall energy and vitality
To enhance the quality of life though reducing pain
To reduce reliance on Western medications

Treatment for Pain with Oriental Medicine
In treating pain, acupuncturists also may include herbal therapy, moxibustion therapy, dietary advice and massage. The total number of treatments and the length of care that a patient may need are based on many factors including the time the condition has persisted, patient's health, age, and personal effort based on recommendations. Other important factors include the severity of the pain and the patient's overall response to therapy. The course of treatment will be determined during the first few acupuncture sessions.
The World Health Organization (WHO) recognizes acupuncture's ability to treat over 30 diseases including:
Trigeminal Neuralgia
Peripheral Neuropathies
Frozen Shoulder, Tennis Elbow
Acupuncture is very effective for the treatment of body pain and much safer than other methods of treatment. Get started with a consultation today: